Traffic Alerts
To see an interactive map of road closures in Rocklin, click HERE. On the next screen you can drag the map to view a specific area or enter an address in the search box. You can zoom by using the wheel on their mouse or with the plus and minus tools. For more information on the road closures, click the line indicating the road closure, and a screen will pop up with details.
Please note: This application is for informational purposes only and should not be used or relied upon for emergency services. The City of Rocklin will make every effort to post the latest road closure information however occasions may arise when access may be difficult. If you are relying on this map for mission critical use, please be sure to confirm the information is correct by calling the City of Rocklin's Corporation Yard at 916-625-5500. Timely delivery of information is anticipated but not guaranteed.
Lane Closures: Wildcat Blvd (West Stanford Ranch Rd and Bridlewood Dr)
| | |
| --- | --- |
| Start Date | Friday, June 7 |
| End Date | Friday, June 21 |
| From Street | West Stanford Ranch Rd |
| To Street | Bridlewood Dr |
| Reason | Asphalt repairs |
| Time of Day | 7 a.m. to 6 p.m. |
| Project Lead | City of Rocklin |
| Notes | Construction will be limited to one lane at a time to minimize traffic impacts. The work has been scheduled to occur after the school year to reduce impacts to Whitney High School. Signs alerting motorists to the delay will be posted prior to the work. |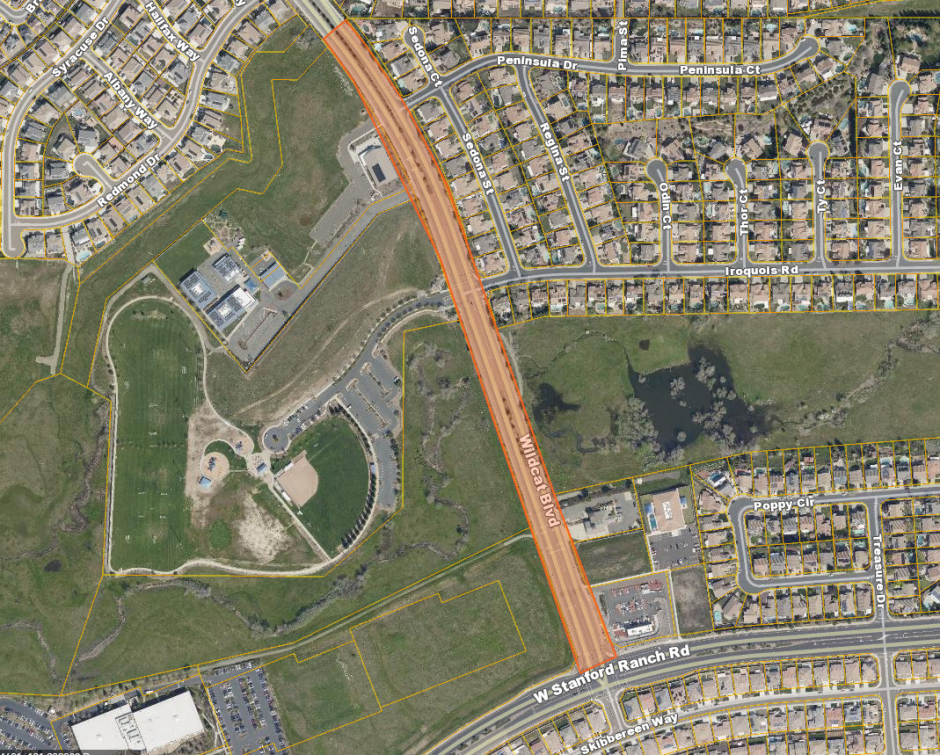 Road & Sidewalk Closure: 3rd St. at Sunset Blvd.
Start Date
Monday, June 10
End Date
Monday, July 29
From Street
Sunset Blvd.
To Street
Parkside Dr. / Willard Way
Reason
Intersection Improvements
Time of Day
7 a.m. to 3 p.m.
Project Lead
City of Rocklin
Notes

Work to upgrade the intersection of Sunset Boulevard and Third Street will begin on Monday, June 10, and is scheduled to be complete by Monday, July 29.

Third Street will be closed between Sunset Blvd and Willard Way for the duration of the project with no vehicle access. A detour will be provided. Lane closures on Sunset Blvd will also occur between 7 a.m. and 3 p.m. during the project.

In addition, a sidewalk detour will require pedestrians to walk on the west side of Sunset Blvd rather than the east side, between 3rd St and Pacific St.

The current left turn lane on Sunset Blvd onto Third St. has a capacity for nine cars, which quickly fills up during peak traffic hours. In addition, the existing drainage—a valley gutter—requires cars to slow down before crossing it, adding to congestion within the intersection.

https://www.rocklin.ca.us/news/work-begin-june-10-improve-traffic-sunset-blvd-and-third-st