Quarry Park Adventures Spring Season Opens Friday, April 12
A Special Celebration is also Scheduled On Saturday, April 20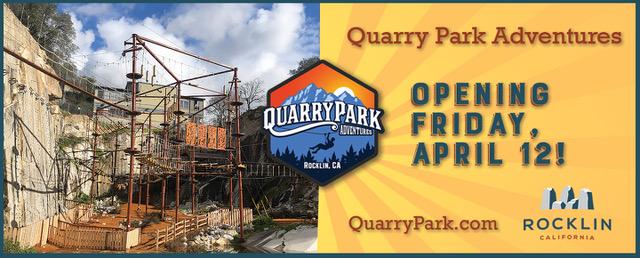 Get ready to zip, climb, soar and explore when Rocklin's Quarry Park Adventures spring season begins on Friday, April 12! Tickets are on sale now at www.QuarryPark.com and reservations are encouraged for all guests, so sign up today. All previously purchased tickets and passes will be honored.
The adventure park will be open seven days a week (weather permitting) with adventure start times available to book from 8 a.m. to 5:30 p.m. daily with a variety of packages available. Guests will have the option to do it all or focus their experience on zip lining over the quarry, taking on the towering challenge ropes course, sending the little ones for a romp through the kids' zone, and more.
"On April 12, Quarry Park Adventures will be open in the heart of historic Rocklin," City Manager Steve Rudolph said. "This one-of-a-kind attraction was made possible by Rocklin's residents and is something they will be very proud of."
A special celebration of the adventure park's spring opening will also be held on Saturday, April 20, from 11 a.m. to 2 p.m. The celebration will include ticket giveaways, live music, and a ceremony led by the Rocklin City Council in the heart of the park's action! The presentation will feature dramatic entrances, a zip line race, and a chance for the public to walk the quarry for free and see the attractions up close.
Quarry Park Adventures is projected to attract nearly 50,000 visitors a year, who will spend their dollars not only at the park but at surrounding establishments. The activity will help businesses thrive and bring additional sales tax revenues to the City to support vital public services that help maintain Rocklin's high quality of life.
"This park has the potential to be a major entertainment destination for residents and the region," said Dylan Burt, General Manager/Managing Partner for Adventure Operations, LLC. "Our parent company helped build this park, and we're committed to helping it realize its potential and serving Rocklin residents for years to come."