News & Reports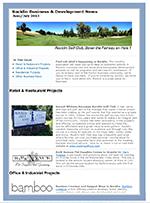 Rocklin Business & Development News
Find out what's happening in Rocklin! This monthly publication is delivered directly to your e-mail inbox and will keep you up to date on economic activity in Rocklin, including new businesses, development projects and programs and services for businesses.
View archives of Rocklin's Business & Development newsletter, in HTML and PDF format.
Sign up to start receiving Rocklin Busines & Development News.

Sales tax reports include a summary of activity, sales tax by business group, top producers, top business categories, and sales per capita.

Best Performing Cities, published by the Milken Institute, examines the US metropolitan areas and analyses the most successful areas at creating and sustaining jobs. Regional and national economic trends are also reflected in the annual rankings.